Amtrak sleeper cars are awesome. Covered meals, showers, and a bed to sleep on make cross-country traveling way easier. But, with those luxuries comes an added cost; in fact, Amtrak's smallest sleeper cabin, the roomette, is usually more expensive than flying first-class. And, with all that new federal money coming in the next few ears, we are going to be seeing new trains, new routes, and tons of renewed interest in traveling by rail.
So, how much does an Amtrak roomette cost?
Update July 24, 2022: Prices shown below were updated to ensure they are accurate, and to include information about senior and military discounts.
Quick Answer: What's the Average Cost of a Roomette?
Amtrak roomettes are on the pricey side, averaging $900-$1,400 for two round-trip tickets between major US cities. Longer rides, like cross-country trips, can cost more than $2,400 per round-trip ticket. But, since you're paying for travel, lodging, and food at once, the costs are easier to justify.
What is Included in an Amtrak Roomette: Features and Benefits, Explained
Okay, so we've established that the roomette is one of the most expensive ways to ride Amtrak, which is already pretty darn expensive. So, what do you get for all that cash? Let's break down what is included in the cost of an Amtrak roomette ticket: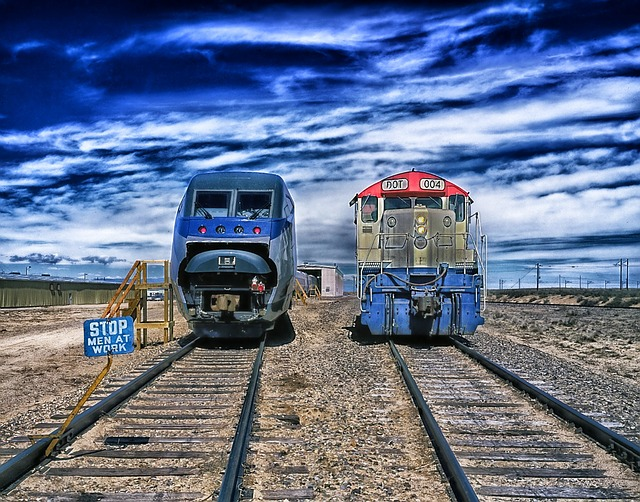 The Roomette
The main thing you get? The roomette! It's not big – I'd guess it's about 36 square feet, max – but it's more than enough room for two people to stretch out, relax, and get some sleep.
The roomette includes:
Two seats, about the size of an airplane business/first-class seat
Two beds

One bed drops down from the ceiling, another formed by sliding the seats together
The beds include a mattress and sheets, and they're slightly narrower than a Twin

Storage for your luggage
Access to a shared bathroom, reserved for sleeper car passengers
Large window
Private lighting – you decide when it's lights out
The Food
Every sleeper car passenger gets 3 square meals – and some snacks – included in the price of their ticket. If you're on the train during meal times, the meal is covered.
You'll have two choices for dining: traditional dining in the dining car or flexible dining, a service where meals are brought directly to your room.
The menu available to Amtrak sleeper car passengers is surprisingly good. Each meal includes an appetizer, entree, dessert, and beverage. The breakfast menu is a bit smaller, more like a continental breakfast at a hotel, but it's tasty.
Lunches are filling and taste fresh, too. Dinner is where it gets special. Every time you're on the train for dinner, you'll be treated to a full 3-course meal, and your first alcoholic beverage is free.
One night, on the way from Chicago to Seattle, I had the following:
Salmon over rice pilaf
Carrot cake
Chardonnay
Bread on the side
You can expect meals like that, and more, when you're riding in an Amtrak sleeper car!
Here's what lunch looks like:
And, finally, breakfast:
Coach and Business Passengers Don't Eat Free
Riding in coach or business classes is fun, too, but it's not just the bed you're missing out on. When you ride in coach or business class, you'll have to bring all of your own food or pay out of pocket at the cafe car. You can't even sign up for or pay for a meal in the dining car; the dining car is for sleeper passengers only, no exceptions.
The Perks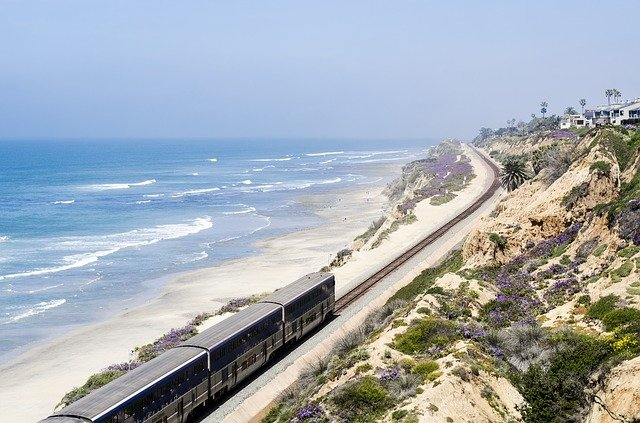 A private room and included meals aren't the only thing you have to look forward to, however. Here's the rest of the stuff you get when you're in the sleeper car:
Private(ish) Bathrooms: Roomette passengers don't get their own bathroom, but they do have access to shared bathrooms reserved for other sleeper car passengers. So, you're still going to have to share with a few others, but that's way better than two-to-three-dozen others!
Shower Access: Being able to shower on a trip thousands of miles long? To me, that feels more like a necessity than a perk!
Car Attendant: Each sleeper car has a dedicated attendant, there to assist you with anything you might need – including hot coffee 'round the clock.
Turndown Service: They aren't going to put a mint on your pillow, but it's way easier to get your bed set up and torn down with help from a professional.
Free Drinks and Snacks: Any time you're feeling thirsty or peckish (before 10 PM), head down to the cafe car and get yourself a drink and snack – free of charge for sleeper car passengers.
Access to Amtrak Lounges: Certain Amtrak stations have private lounges with couches, wifi, and snacks that sleeper car passengers can use.
Amtrak Roomette Price Breakdown: 22 Common Trips
I'm not a computer engineer, nor am I running a website with a full team of staff members who can do deep-dives into the Amtrak pricing algorithm. That said, I did do what I could to figure out some average prices for Amtrak roomettes.
I spent several hours on the Amtrak Website, jotting down prices for a two-person roomette trip, using various popular cities and trips to make sure I got a decent sample.
Below, you'll see round trip prices between many US cities, with prices shown for:
Two people, 
Riding in a roomette, 
With travel dates two months out. Two months is a good "minimum lead-out" to make sure you're getting a decent price.
East Coast
NYC to Orlando (44 hours): $1,364
NYC to Chicago (39 hours): $1,416
NYC to Los Angeles (136 hours): $2,802
NYC to Denver (89 hours): $2514
Washington, D.C. to Chicago (34 hours): $1,552
West Coast
San Diego to Seattle (80 hours): $1,493
Los Angeles to Portland (60 hours): $1,434
Los Angeles to Chicago (85 hours): $1,710
Seattle to Chicago (90 hours): $1,908
Mountain States
Denver to Chicago (36 hours): $1,268
Denver to NYC (84 hours): $2,434
Albuquerque to St Louis (50 hours) $1,458
Salt Lake City to Chicago (68 hours): $1,659
Midwest
Chicago to New Orleans (40 hours): $988
Cleveland to NYC (25 hours): $828
Pittsburgh to Chicago (20 hours): $998
Cincinnati to Portland, ME (70 hours): $1,020
South
New Orleans to San Diego (100 hours): $3,127
Dallas to Chicago (48 hours): $1,360
New Orleans to Washington, D.C. (56 hours): $1,294
Tampa to Washington, D.C. (44 hours): $1,300
Roomette Price Changes from Last Update (July 2022)
When I first published this article on April 4, the prices I got for all of these trips were usually cheaper than they are today. In the past few months, prices for many Amtrak Sleeper Car tickets have decreased by hundreds of dollars. While a couple of routes were $15-20 more expensive, most fares have fallen $100 or more.
Rising fuel costs, summer travel/scarcity of tickets, and disruptions to the national and global economies can probably explain the price increases that we were seeing earlier in the summer. Now, looking forward, at ticket prices for the next couple of months, it seems things are easing back. If you're thinking about a late October or November vacation, now's the time to book!
Amtrak Sleeper Car Discounts: Do Seniors, Active Duty/Veterans, or Anyone Else Get Cheaper Tickets?
Seeing those ticket prices isn't always easy – especially when gasoline is already hitting $5 a gallon. So, does Amtrak have any discounted fares for different groups of people, say, Seniors or Active Duty military and Veterans?
Amtrak's Senior Discount gives those 65 and older a 10% discount on most fares, but not for sleeper car tickets. If your route includes a segment where sleeper accommodations aren't offered, you can use the 10% discount for that segment, but not the rest of the journey.
Amtrak's Military, Veteran, and Military Child discounts also deliver a 10% price cut on most fares… except for the sleeper car, according to their website. However, Military travelers do get to board the train before other passengers no matter what, which is a nice perk.
You can find details for each military-related discount here:
Amtrak's Student Discount gives students between age 17 and 24 a 15% discount on most coach and business fares. As with the other discounts, sleeper car tickets do not apply.
Amtrak Sleeper Car: Do I Need a Roomette, Bedroom, or Family Bedroom?
If you're going to be on an Amtrak train overnight and you have a bit of extra money, you 100% need to be in the sleeper car. There's no doubt about that – having a private room, food, and all the perks of an Amtrak sleeper car ticket make the price more than worth it.
That said, the Bedroom and Family Bedroom options on Amtrak trains are way out of my price range. You get extra space, and it's way cheaper when you're splitting the cost 2-4 ways, but the Bedroom and Family Bedroom are still crazy expensive.
If you think you (and a partner/friend) can comfortably fit in a Roomette, get the roomette. The perks are the same and you'll save hundreds. But, that leads us to the real question at hand:
How Big is an Amtrak Roomette, and Will I Be Comfortable In It?
This is probably the thing that most people think of first. Like plane seats, trains are built to be as compact as possible to increase profitability. So, naturally, when you think about a sleeper car, you think to yourself, "Will I actually fit in this thing?"
I'm 6 foot 5, and I was pushing 300 pounds when I took a trip from Cincinnati to Seattle in an Amtrak roomette. I shared it with my wife, who is normal-sized. We each took one bunk; even two very small people would find it tough to sleep side by side on one bunk alone.
Here's what the bunk looks like when you're in it:
That's where we were for our 60-hour-plus journey. And… we were fine! It wasn't as roomy as a hotel, but it wasn't nearly as bad as sitting in an airplane for 17 hours – which I've done a few times and would go out of my way to avoid having to do again.
Statistically speaking, most people on earth don't take up as much space as I do. So, unless you're taking up more space, I think you'll be more than happy in an Amtrak roomette!