Planning your next trip? Well maybe it should be backpacking! Backpacking is when you take everything you need to camp on your back and hike anywhere from 1 mile to thousands! You don't have to be an expert to do it, you just have to be ready to have an adventure.
Here are just a few reasons why going on a backpacking trip might be exactly what you need!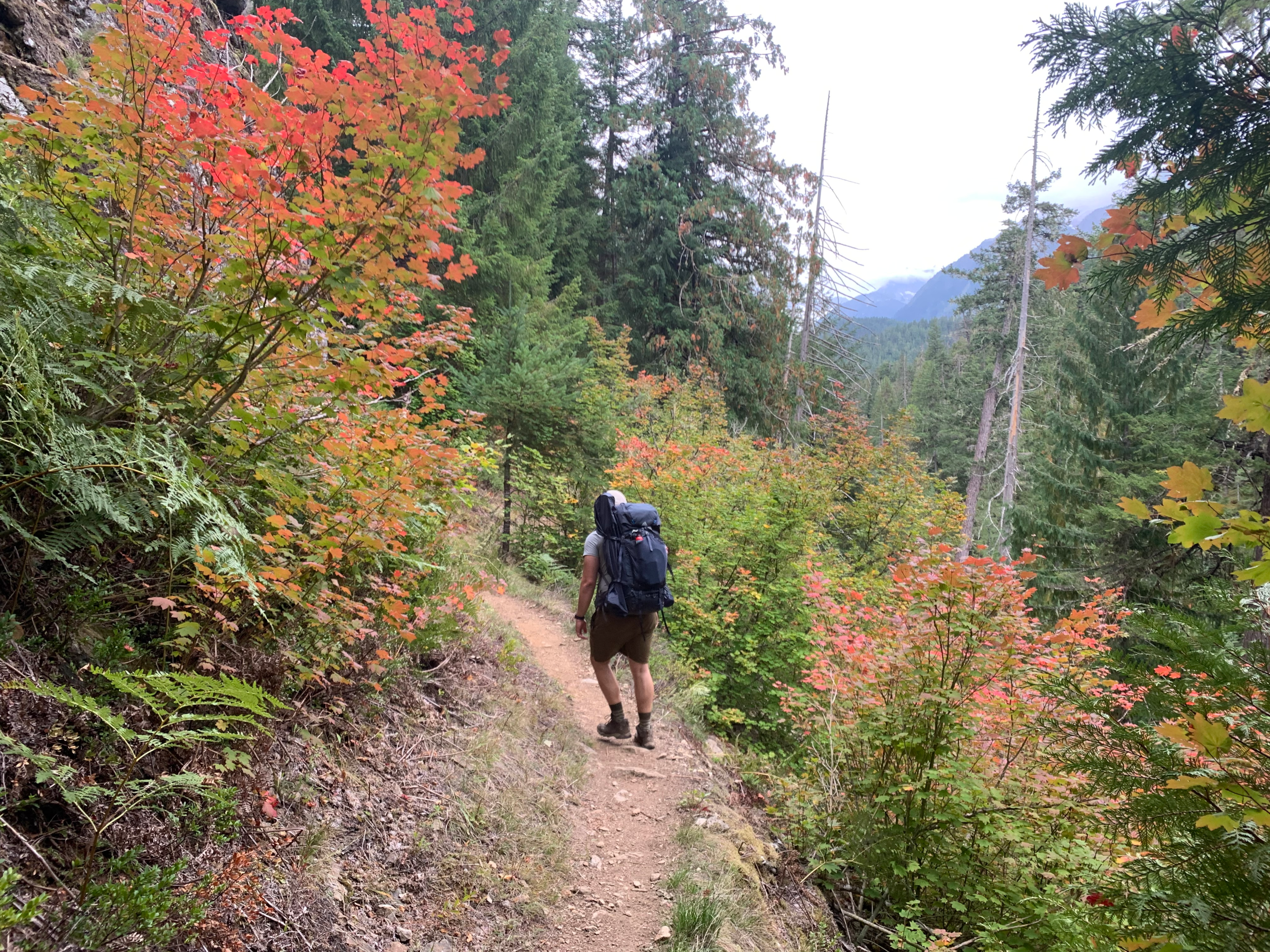 1. Connect with Nature
The easiest reason someone might consider going on a backpacking trip is to be one with nature- experience the morning air, hear the trees rustle, and find a stillness in the simplicity of being outdoors. The backpacking experience centers on this sweet simplicity.
2. Disconnect from Civilization
Being without cell service can lead to lots of anxiety at first- how will I be connected to others? This is a valid fear to have. However, after you accept the fact that you don't have service, you can't check Instagram or receive texts from your mom, it is so freeing! You will finally be able to finally exhale all the stress, screens, traffic lights, and advertisements. Even if it's just for a night, it will be so refreshing.
3. Explore New Places
You could go backpacking in your local state park or all the way across the globe!If you choose to go to a new place, experiencing different cultures, traveling by foot to different tourist spots, and spending time with the locals are all things you can incorporate into your trip! It's your journey, and you get to decide where and what you see!
4. Challenge Yourself
You are more capable than you think. If you're thinking "I don't know, I'm not in great shape… I don't think I have what it takes" I will kindly interject. You can make your backpacking trip be what's right for YOU. If it's only 2-5 miles a day, who cares? You are still out there exploring, having an adventure, and experiencing life. But if you do find yourself pushing to go further, to stay on the trail, you will feel yourself being challenged and it is one of the best feelings!
5. Learn How to be Self-Reliant
Living in the 21st century is so convenient and fun- electricity, fast food, smartphones that allow us to google any and everything. Although google maps is your best friend and always should be, learning how to navigate off grid as well as so many other skills is one of the most fun challenges! It builds confidence in yourself knowing basic survival skills and it also gives you feeling of your humanity. One of my favorite memories of our first backpacking trip was camping by a stream and using our lifestraw to filter our very own fresh, cold, and crisp water.
6. Get a Fresh Perspective
Maybe something is going on in your life- work can be stressful, the evening news can be overwhelming, or maybe you just feel in a funk. Whatever is going on in your life, good or bad, going backcountry can relax your anxieties and tension. Being on the trail can help turn your focus on what matters, spend time in thought, and take a deep exhale. Simply put, it's an even better version of a long hot shower.
7. It's an Affordable Vacation
The cost of hotels, flights, food, car rentals, and more can really take a stab at your bank account. If you're looking for a budget friendly vacation that still somehow manages to not send you home broke, backpacking is a great option. The biggest cost factor that stops people from trying backpacking is the price of the equipment you need to go backpacking. The price of a good backpack can be almost 300 dollars sometimes, not including the tent, hiking boots, sleeping bag, food, etc.
To backpack safely you need these things. However, places like REI have made it more affordable than ever, allowing you to RENT EQUIPMENT! They have rentals for nearly everything you could need for surprisingly cheap (especially if you're a member), making it easy to have your 10 backpacking essentials covered. If you are in a place that doesn't have an elite outfitter store, you really don't need all of the fancy equipment to have an amazing, comfortable, and unforgettable trip.
Places like Walmart and Target even carry backpacking equipment! And there are always people selling their stuff on Facebook Marketplace or eBay too. You don't have to have all the fancy and expensive stuff to have an amazing and safe trip. Personally, my husband and I buy most of our stuff at REI or Amazon, depending on who's got the best price.
8. It's an Eco-friendly Vacation
Living off grid without using electricity or using gas is so eco-friendly! You can feel ethically good about your small carbon footprint instead of some vacations driving hundreds of miles or flying thousands!
9. Grow Closer to Your Hiking Buddy – or Yourself
Going on an adventure, disconnected from society with another person will bring you naturally closer. And if it's a solo trip, you will be able to grow closer with yourself! Create memories that will last a lifetime, by the fireside, sleeping under the stars, and just talking! You'll come out of the trip with that quality time (or introvert time) at an all-time high.
10. Explore a New Place or Even a New Culture
Going backpacking can be anywhere you want to go! You can go backpacking all over the world. Whether that be the state park near you backpacking through Europe to discover cute little towns. Traveling abroad and backpacking through a country could give you a whole new perspective that maybe you wouldn't get just doing all the touristy things.
11. Meet New People
If it's a solo trip, more power to you! However, fellow thru-hikers are known for being friendly. Look out for more open-minded backpackers and you have a real chance of making some truly lifelong friends.One way backpackers meet new people is often times at the camp your sleeping at or at hostels in the town passing through!
If your goal is to meet other hikers, you could even sign up for an organized trip! There are so many organized backpacking trips put on by different outdoor organizations! The biggest programs I'm aware of are REI's organized trips but there are so many others. They also typically provide equipment!If you're truly getting hyped to make lifelong friends and become a backpacking all star, nothing is more top of the tier than hiking the Appalachian or pacific crest trail!
12. It's Great Exercise
Going on a backpacking trip is an incredible way to burn calories and build muscle; hiking is a great way to get in shape, and backpacking is just multiple hikes with camping in the middle. Your cardiovascular system will thank you for taking it through the thick of it up hills and through streams with 30+ pounds on your back! Both hiking and backpacking are great ways to work out, backpacking has the added benefit of increased difficulty.
13. Feel Alive
Being outdoors, feeling the sun(or rain) on your face, surrounded by nature and beauty, it's simply so fun. Separating yourself from society is one of the best ways to tune into that adventurous spirit, discover yourself again, and feel ALIVE.
So Get Out There!
It is time for an adventure! Go explore the country (or countries), hike on the less traveled path, and experience the beauty of being outside! I hope this article inspired you, gave you the confidence, and excitement to book that trip! Stay safe and hike on!