A tent footprint is a ground cloth, essentially a tarp, typically the size of your tent, that is placed between your tent and the ground. Tent footprints are crucial to protect your tent and yourself from outside factors. They are made of waterproof material, typically polyethylene, polyester, or nylon. They are not that expensive to buy (if they don't already come with your tent), and help enhance your camping trip to be warmer, dryer, and cleaner!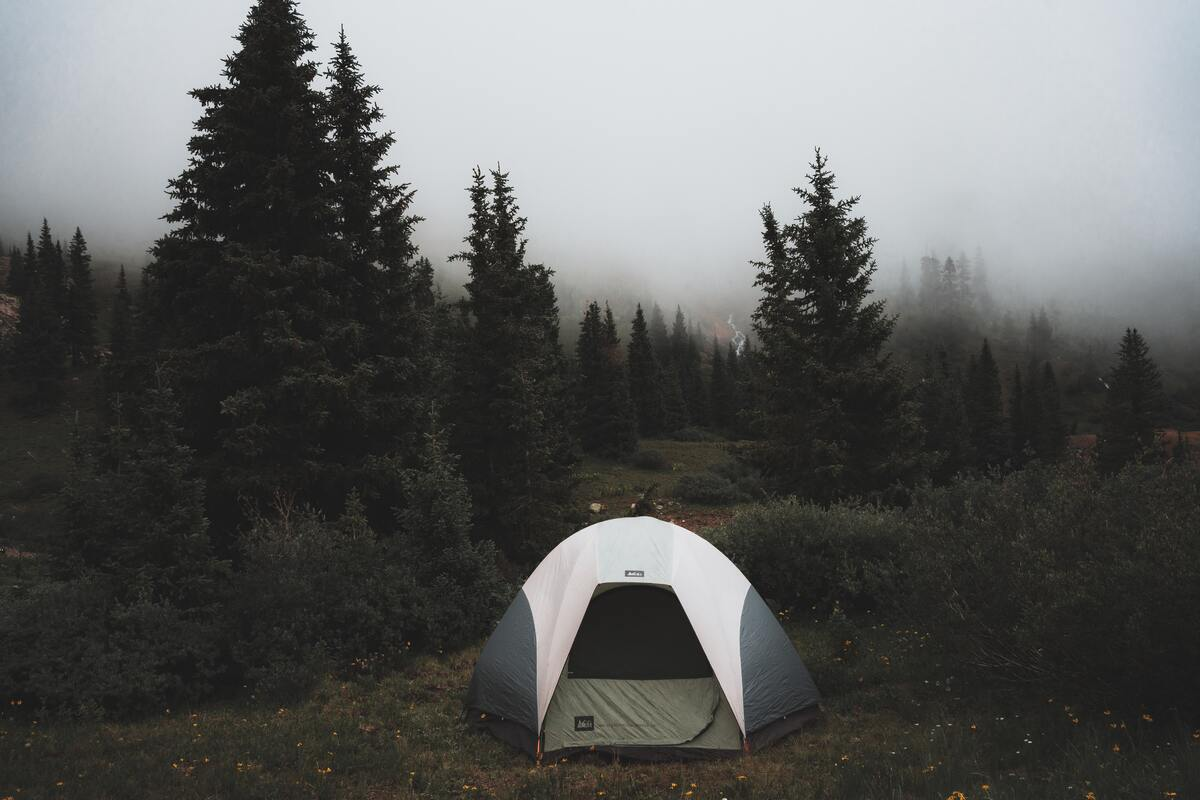 What is a Tent Footprint's purpose?
Protects You from a Cold Ground: Without a tent footprint, if you have the camping essentials, you will still have the tent floor, a sleeping pad, and a sleeping bag to keep you warm, however, a tent footprint will keep you noticeably warmer. If you are going camping in colder temperatures, it will help you get a cozy night's sleep.
Protects You and Your Tent from a Rocky Ground: If you're going backpacking, or you're on uneven or rocky terrain, a tent footprint evens out and protects you from any rugged terrain you might be forced to sleep on!
Keeps You Dry: Having a tent footprint will stop any wet ground from seeping through your tent floor, keeping you and the inner tent comfy and dry! It is especially needed if there is any chance of rain, you don't want to risk waking up in the middle of the night cold and wet, and definitely don't want to have to pack up a wet tent (when you unpack it, let's just say it won't smell good). And while we're on the topic of staying dry, make sure you have a rain fly! Heavy rain is no joke when you are out in the middle of no where with no backup shelter.
Keeps Your Tent Clean: The forest floor can be muddy, the desert floor dusty, and the beach floor sandy. So wherever you're sleeping for the night, a tent footprint will keep your tent clean for an easy teardown.
Lengthens the Lifespan of Your Tent: If you use a tent footprint, the lifespan of your tent will be extended. The footprint protects your tent from so many things, and the wild can be a harsh place. If there is any chance of ripping due to rocky terrain, your tent footprint acts as a barrier! Tents can be very expensive, and tent footprints are pretty inexpensive, so don't risk it!
If you don't have your own tent footprint, or you want a lower-cost option, you can always make a DIY footprint using a tarp or other waterproof materials! I've even seen people use large window wrap (basically extra large plastic wrap) as a tent footprint. The only downside to just using a tarp is that it is much heavier than a tent footprint (which weighs less than a pound typically). So if you're backpacking, or trying to pack light, the extra weight that a tarp can add might not be the best option.
What does a tent footprint look like?
Tent footprints look pretty much like the walls of your tent – thin, waterproof fabric that is easy to fold up and put in a backpack. They also resemble tarps, though they aren't quite as thick or "crinkly" as the blue tarps you often think of.
Here's an example of a simple tent footprint, AKA "groundsheet", from Amazon:
What's the difference between a tent footprint and a tarp?
Speaking of tarps, why not just buy one of those instead of a tent footprint, which is often more expensive than a simple blue tarp? What's the difference between tarps and footprints, anyway?
The biggest difference between a regular old tarp and a tent footprint is the fabric. Footprints are made with finely woven fabric that makes it easy to fold up and pack. My tent footprint is small enough that it fits in a quart Ziploc bag; try doing that with a blue tarp from Home Depot!
Final Thoughts
A groundsheet is so helpful in having a dry, reliable place to sleep. Tent footprints keep tents fresh, dry, and protected. With their low cost and easy setup, it's without a doubt recommended that everyone uses a tent footprint!